Ghost in a bottle
Ludwig Lampaert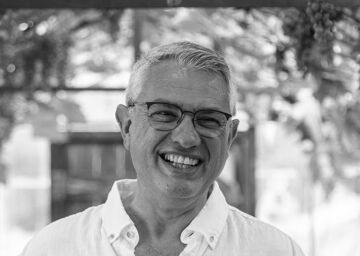 It all started when, as a young man, Ludwig's grandmother let him take a sip of her glass of wine. She told him to hold the wine in my mouth for 10 seconds and then swallow. If he still tasted the wine after 10 seconds, it was a good wine. His grandmother herself imported wine from abroad and bottled sherry. The flavours of those days have never left him.
At 18, he started picking berries with his neighbour to make fruit-based wine. This was not a great success, but these experiments gave him ideas for the future.
When he was 27, he bought a farm and planted a small vineyard of 300 vines. Soon it became 1 hectare. He also had an escargot nursery. Those escargots were renowned and even ended up on the plates of two-star restaurants.
Afterwards, he was active in the wine world for a few years and went on to work in various other sectors such as the world of sleeping comfort, safety materials, shoes, etc., but always from his position as a salesperson.
In 2015, I decided to change his career completely and launched his own business, Ghost in a Bottle. Meanwhile, he makes both alcoholic and non-alcoholic drinks. He also still like to experiment with new flavours both for the creation of new drinks and for dishes in the kitchen.